(National Newspaper) – In the context of a series of consumer goods that tend to increase in price due to the push of domestic gasoline prices that have surpassed the mark of 30,000/liter, domestic iron and steel prices have simultaneously cooled down.
Steel price continuously decreased after the first months of the year increased hot
Many domestic steel enterprises announced to continue lowering product prices from the afternoon of 6/6. Since May 11, this is the fifth consecutive decrease of domestic steel prices with a total decrease of more than 2 million VND/ton.
Specifically, Hoa Phat steel brand in the North adjusted down 300,000 VND/ton for CB240 and D10 CB300 steel, down to 16.95 million VND/ton and 17.51 ​​million VND/ton. In the South, the price of two types of steel CB240 and D10 CB300 also decreased by 300,000 VND/ton, down to 16.95 million VND/ton and 17.41 million VND/ton.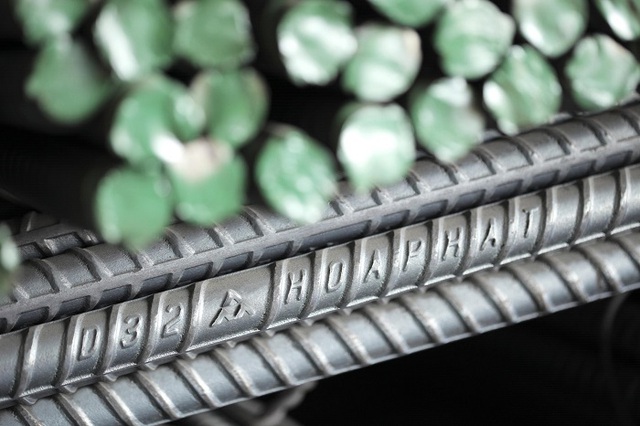 Similarly, the Viet-Y steel brand also adjusted down 300,000 VND/ton and 310,000 VND/ton, respectively, with two grades of CB240 and D10 CB300 to 16.92 million VND/ton and 17.42 million VND/ton, respectively.
Viet-Duc steel brand also reduced the selling price of CB240 coil line down by 300,000 VND/ton to 16.82 million VND/ton, D10 CB300 rebar reduced by 310,000 VND/ton, priced at 17.47 million VND/ton.
Viet-Nhat Steel adjusted down 300,000 VND/ton with CB240 coil at 16.87 million VND/ton; D10 CB300 rebar reduced to 17.07 million VND/ton.
Viet-Sing Steel reduced 310,000 VND/ton with CB240 coil, down to 17 million VND/ton; D10 CB300 rebar line decreased by 310,000 VND/ton, priced at 17.2 million VND/ton.
Southern steel also reduced the level for the above two types of steel, pulling the price of CB240 and CB300 to 17.36 million VND/ton and 17.76 million VND/ton.
Pomina Steel reduced 300,000 VND/ton for both CB240 and CB300 steel, the selling price was 17.76 million VND/ton and 17.96 million VND/ton.
Cause of the drop
The reason why the domestic steel price dropped sharply after a hot rise is said to be that the price of steel billets and input materials have tended to go down recently. The price of raw materials in steel production has continuously decreased since the end of March, causing the steel market to slow down.
Specifically, the price of iron ore (62% Fe) on May 9 traded at 139 USD/ton CFR Tianjin port (China) down about 16 USD/ton compared to the beginning of April; Or the price of HMS 1/2 80:20 scrap steel imported to East Asia port was at $530/ton CFR East Asia on May 9, down $94/ton compared to the beginning of April.
Meanwhile, steel sales of all kinds reached just over 2.4 million tons, down 22.52% compared to March and down 15.6% over the same period last year. And export volume also dropped sharply by 44% compared to March and only increased slightly by nearly 5% compared to 2021.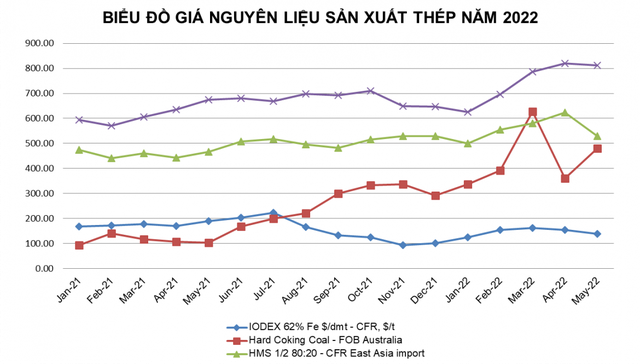 VSA's report showed that finished steel production in the first four months of the year reached 11.43 million tons, up 2.2% over the same period in 2021. Sales of finished steel reached 10.55 million tons, up 4.1% over the same period in 2021. In which, exports reached 2.45 million tons, up 9.4% over the same period last year.
Generally, in the first quarter, imports of finished steel products of all kinds to Vietnam were about 3 million tons with a value of more than $3.1 billion, down 18.04% in volume but up 18.84% in value. In the coming time, Vietnam will continue to implement many large-scale public investment projects, causing a sharp increase in steel consumption output, likely affecting steel prices.
Previously, explaining the increase in steel prices, the Ministry of Industry and Trade said that the sudden increase in steel prices in recent years was not only in Vietnam but also increased worldwide. Because domestic steel factories depend largely on imported raw materials, an increase in the selling price of steel products is inevitable.
Steel market is expected to recover thanks to positive signals from China
Consumption demand is an important factor affecting the trend of steel prices. And China, with the size of the steel industry larger than the rest of the world, its economic growth has a very high positive correlation with the global demand for steel. Therefore, when unstable events have taken place in China since the third quarter of 2021, such as the Zero Covid policy, have raised concerns about the decline in GDP of the country's economy and put pressure on the economy, force on the downtrend of steel prices.
Recently, a series of measures was announced by Beijing to stimulate the world's second-largest economy, which has stalled in recent months. This helps metal prices such as iron and steel to be actively supported.
According to Reuters, iron ore inventories at Chinese ports are also continuing to fall to 132 million tons in the week to June 2, the fifth consecutive week of decline and the lowest level since September last year.
Bar stocks also trended downward, ending at 7.73 million tons on June 2, down for the eighth week and about 16% lower than the 9.22 million tons at the beginning of March – a high. most so far in 2022.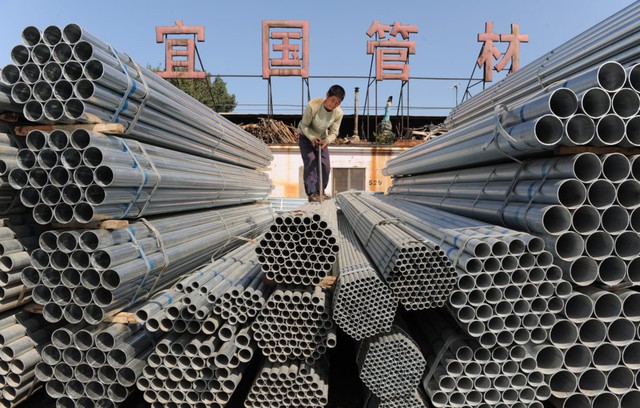 If the stimulus measures do indeed lead to an increase in capacity utilization by Chinese steelmakers, it is likely that iron ore prices will remain well supported, especially due to some supply concerns.
Besides, the prices of raw materials such as coke, scrap steel are important input costs affecting the cost of steel production. For steel mills using BOF technology, iron ore costs account for about 36.3% of cost of production, coke costs about 33.3%, and scrap steel accounts for about 12.4%. As for factories using EAF technology, the cost of scrap steel accounts for 82%.
The price of coke in China has continued to increase since the end of 2021 until now, it is expected that the increase will continue or at least the price will stay high for a long time, due to China aims to reduce CO2 emissions according to its international commitments. Iron ore prices in early June hit 900 yuan per tonne for the first time in nearly six weeks, as Shanghai was lifted from its blockade. With production input costs continuing to stay at a high level, the supply-demand balance is estimated to be short, and steel prices are expected to recover when the Chinese economy returns to normal activities.
National Newspaper newspaper – Specializing in economic life | Khanh Vy | Translated by VIFUCO |09-06-2022